Email Best Practices in the Cayman Islands
Not too long ago, there were predictions of the death of email. Social media was going to rule they said! Long live Facebook they said!
More recently, services like Slack promised to free us from the tyranny of email. Until people got tired of Slack too, and went back to email.
There's no doubt of email's staying power. Amazingly, it's now over 45 years old. And for marketers, a crucial tool in their toolbox to talk personally and directly to their customers.
Understandably then, marketers want to know "how do I get the most out of email?" Some have heard Tuesday afternoons are the best time to send emails, others have heard on the weekends when people are at home. Some have heard short subject lines are best, while others have read really long subject lines are better. Who's right?
If you Google email marketing best practices there are over 7 million results, often contradicting one another. So who IS right? When IS the best time to send an email?
Short answer: no one knows the right answer. Just send your bloody email and get on with your day.
Long answer: no one knows, because 'right' or 'best' is constantly changing. What was best six months ago is different than what is right today, which is going to be different in 12-months time. You have to constantly experiment in email to find out what's best for your list and your sector.
That being said, let's look at Cayman in particular and see what some of the data tells us about email delivery TODAY. Again, this data will change, but it does provide some nice insight that can help guide your email marketing in Cayman.
The below stats are based on over 1.5 million emails sent to the Cayman community over the past few years across a variety of industry and sectors.
It's important to note as well that 55% of the emails were opened on a mobile device, stressing the importance for making sure the emails you send are mobile friendly and accessible.
Day of Week
Open rate by day of week
How does the day of week impact open rates here in Cayman?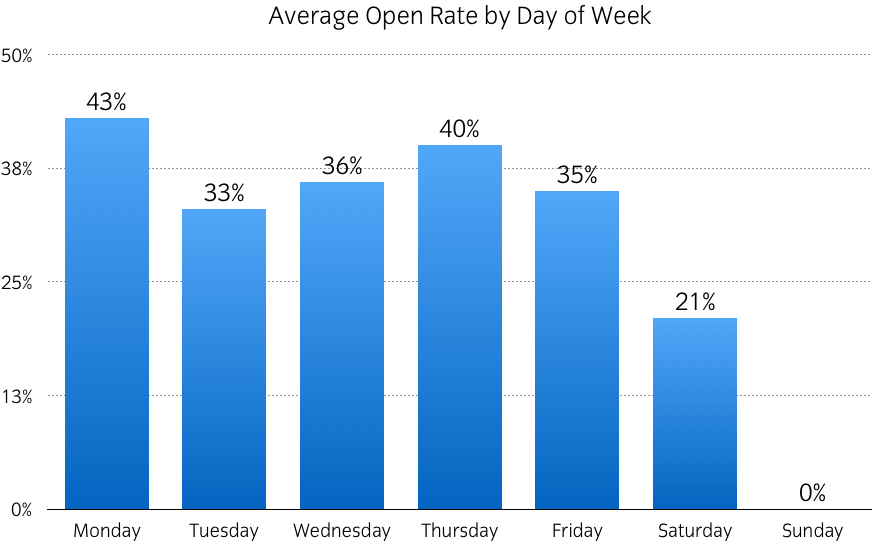 Interestingly, no one sent any emails on Sundays here in Cayman. Saturdays also prove especially bad at open rates, likely due to people being away from their desks, and out running errands.
Click rate by day of week
What about click-rate? How does day of week impact that?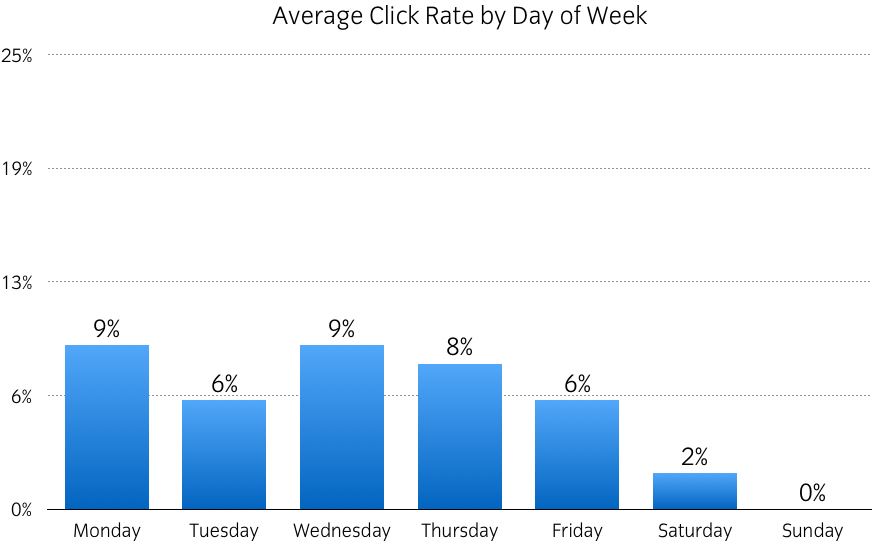 Click-rate follows open rate pretty closely based on the day of the week. Again, Saturday is a bad day if you want to send email in Cayman. People don't open or click through as they are on the go and aren't sitting down able to check their phone or computer.
Times forwarded by day of week
What about how many times emails are forwarded on by day of the week?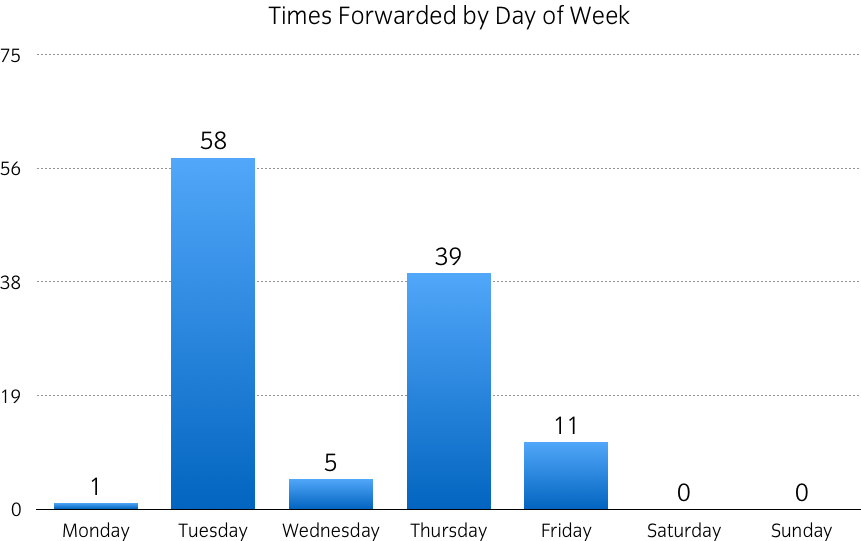 Tuesdays and Thursdays are clearly best when it comes to email forwards. Again, people are at their desks on their computer where it's easier to get their attention and have them take an action.
Send Time
Open rate by send time
What about the time of day, when do people open their emails in Cayman most often?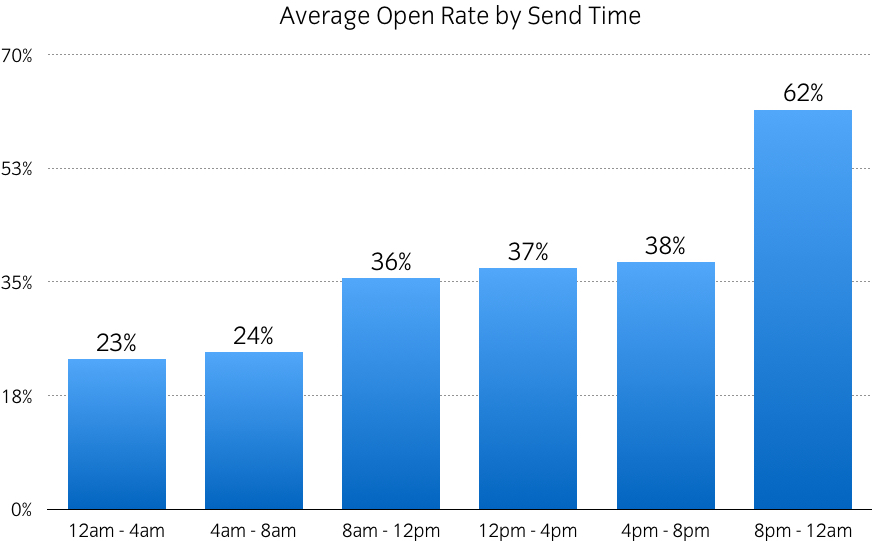 Interestingly, the later in the day, the more likely Cayman residents are to open email. Sending early in the morning means the email is likely buried among all their other emails and as a result the email can be forgotten.
Late at night though emails are few and far between, and people are likely to have their phones next to them on the couch as they watch TV so they will see the email come in and check it right away.
Subject Line Length
Open rate by subject length
Another factor marketers often obsess about when it comes to email is a great subject line, and how long to make that subject line. So what does the Cayman market prefer, short subject lines or long ones?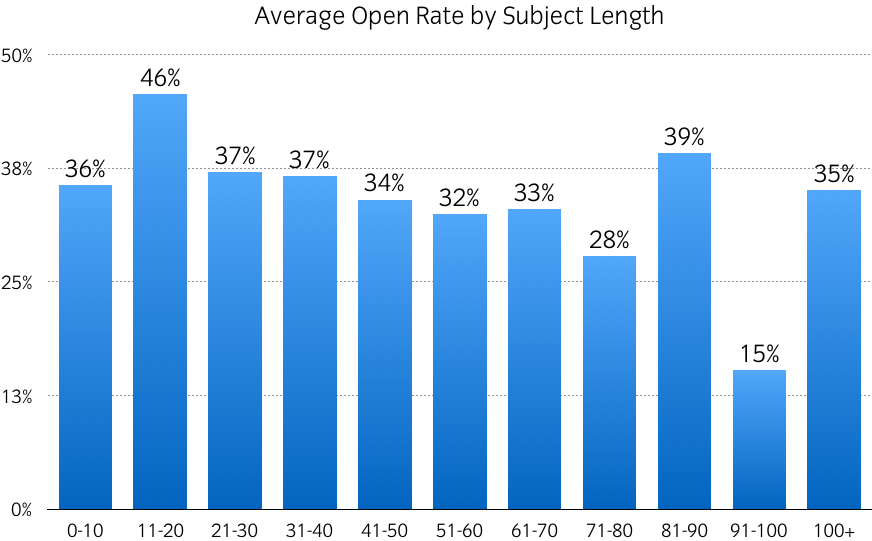 Subjects with 11-20 characters outperform others in terms of open rate, except for extremely long subjects with 81-90 characters.
Gilt Groupe are famous for using extremely long subject lines in their emails, which can make sense with an eCommerce company. For most though, shorter is going to be better as far as subject lines go.
Click rate by subject length
Click rate shouldn't be that dramatically impacted by subject length, but what does the data tell us?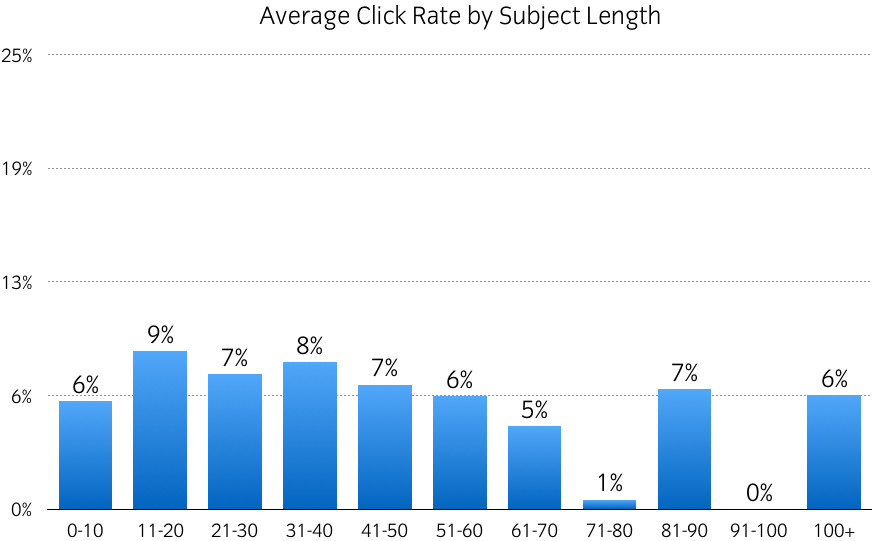 Again, shorter subject lines perform slightly better in terms of click throughs than longer ones, but the effect is much less than with open rate.
Summing Up
Email is a powerful tool in a marketer's toolbox when used correctly. In Cayman especially, email enjoys open rates of 20-30%, significantly higher than the 10-20% in larger markets like the U.S. and the U.K.
Any marketing strategy in Cayman should at least consider email as a channel to get your message out. That being said, the email needs to the relevant to the customer, personalised to their interests, and compatible across any device they view the email on.
If those factors are well considered though, email is a fast, inexpensive, and direct way to get your message to the Cayman audience.